A great place to have up your sleeve. These guys were some of the first on the craft coffee scene in Paris a couple of years ago, and although they're still at the top, they've lost some ground to those newcomers.
This very industrial interior welcomes yummy mummies in their yoga-wear from 8am (on weekdays) and the trendy but hungover on weekends from 10h. Very anglo-saxon - you won't have to make too much effort to get your coffee, cookie or scone - and it will served with a friendly smile
You come because you were out partying until 4am the day before and you need a refuge to rehumanise before strutting down the chic shopping streets.
47 rue de Babylone, 75007
Closed Mondays.
Apporter les meilleurs crus du café et une meilleure connaissance de la culture café. Offer...
LES PLUS : Brunch, Ouvert le dimanche, Take-away HORAIRES : De 8h (10h samedi et dimanche) à 19h. Fermé lundi. A modern-vintage coffee shop with roasting machines in the back. There are sweet and...
http://www.lefooding.com/restaurant/restaurant-coutume-cafe-paris.html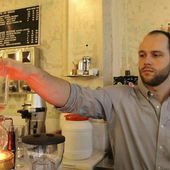 L'avis de Time Out Si les Français aiment le café, ils sont loin de comprendre cette boisson. Voici le principe de ce lieu lumineux ouvert par un Australien et un Français qui a appris l'art de ...