The scene was set: the misletoe was up and the Christmas fairy lights were on. The glasses had been laid out, the stickies were chilling in the fridge, and the port was in the decanter. The mince pies had just come out of the oven and were filling the apartment with the smell of Christmas spices. All that was needed was for the guests to arrive and get the Christmas "Sticky and Sweet" Burnt Wine underway.
Eventually they did, but while we were waiting, we started with a frozen cranberry, ginger and rye whiskey cocktail. This was the line-up:
Sauternes "Gourmandise", selected by Bettane + Desauve, with roquefort.
Pedro Ximenez 2008 from Toro Albala, with the aforementioned mince pies and some Pierre Herme macarons. (They have a new PX flavoured macaron this season!)
Crown Sweet Madeira from Vinhos Barbeito, paired with pineapple.
2007 LBV Port from Quinta do Noval, selected by Berry Brothers, paired with white and dark chocolate.
Conclusions: the pairing of PX and home-made English mince pies worked a lot better than I had thought. It is an interesting mix of cultures but it was really, really good - even if I say so myself!
Even better than that, however, was the Madeira. Barbeito is my favourite Madeira producer and this Crown Sweet did not disappoint. I'd been wondering if, in fact, it might have gone well with spring rolls, but it didn't quite hit the spot - the pineapple was by far and away the best pairing of the night. Highly recommended. Thank you to everyone who came!
Productor de vino, Presentación, productos, bodega, visita virtual y recetas.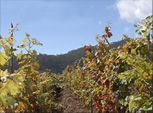 Vinhos Barbeito - Madeira Wine
Vinhos Barbeito - Madeira Wine
Quinta do Noval - Fine Ports Since 1715
Pour visualiser ce site vous devez mettre à jour Internet explorer ou télécharger un navigateur moderne.For see this website you need modern browser or upgrade Internet explorer.