It has long baffled me how something so popular in one country can remain relatively unknown in another, even though it is only a short jump across a bit of water away.
Supper clubs.
In London, they're everywhere. They offer new eyes, new perspectives to the somewhat stuffy restaurant scene. They can offer insights into new cuisines and inroads for new friendships. The Hidden Kitchen found success in Paris, so much so that they decided to open the restaurant, Verjus. Arguably, they fell victim to their success.
Well now it's time for the hunter to become the hunted. I'm putting my neck on the line.
I can't promise it will be the most technically advanced meal you've ever eaten, but I can at least offer a warm, welcoming environment, gorgeous views of Paris and obviously, I'll be doing my best to make it tasty. If you're in Paris for one night or one decade, if you're a single traveller not wanting to eat out alone, or just somebody looking to discover something new... drop me a line.
Come, enjoy a great evening, meet some interesting people and let your tastebuds take over. Find out more about Burnt Cream HQ here.
Here is the calendar of upcoming events. For more information and to reserve your place, send Emma an email by clicking here.
Six degrees of separation is what they claim exists between every person in the world. That you can pick any two people in the world and connect them in just six steps. However, coincidences can ...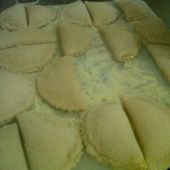 Every month, I host a dinner party / supper club. The idea is that I open my front door to six total strangers and feed them. The name of these events is "Burnt Food" ... because I like to keep ...
Burnt Food Menu 10th February 2013 (aka Chinese New Year's Day) Chicken dim sum Pork wontons and a spicy black vinigarette sauce - Crispy pork belly (siu yuk) with a char siu sauce, stir-fried ...