Another less-talked-about offering on the Paris craft cocktail scene, Jefrey's finally re-opened its doors on 3rd September after a quick refurbishment over the summer months. I have to say - I rather like the result.
Just as at the Experimental Cocktail Club situated right opposite, it has a small, speakeasy, almost hole-in-the-wall vibe, but push open the door, go down a couple of steps and you find yourself in a plush, double-level jazz joint.
Guillaume Bisiaux, formerly at the Prince de Galles, heads up the new operation. It is pretty sleek. Guillaume mans the bar while two girls ferret around taking orders and collecting glasses. The back bar comprises a wide range of great whiskies and other sought-after niche spirits from around the world (which sometimes get served with dark chocolate - more original than peanuts or popcorn.) The cocktail list is well-considered and interesting... and the results are some of the most beautiful drinks I've seen in a very long time.
A cocktail will set you back somewhere between 10 and 16€, which admittedly is rather on the hefty side, even for Paris. However, I particularly liked the idea of buying a full bottle of booze, rather than cocktails by the glass, and they'll keep the bottle for you until the next time...... dangerous!
14 rue Saint Sauveur, 75002
Open Tuesday-Sunday from 7pm - 2am.
Bar à cocktails et whisky de la rue saint-sauveur dans le quartier de Montorgueil. Jefrey's, le bar d'hôtel qui n'est pas dans un hôtel
Dans la série "testé et approuvé" je demande le Jefrey's. Ce bar cosy-lounge du quartier Montorgueil n'a absolument rien à envier à son célèbre voisin l'Experimental. Bar à cocktails et spi...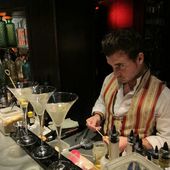 Jefrey's 14, Rue St Sauveur 75002 Paris Due to the nature of this blog, I write about all my experiences: the good, the bad and the bubbly. While I don't consider my reviews the final word on any ...