Today, I had the very real pleasure of attending a masterclass held by the legendary cocktail-extraordinaire from all the way over the other side of the Atlantic (Momofuku and PDT anyone...?) Mr Don Lee.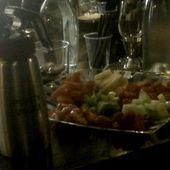 Twitter / emmabentley87: Making cocktails by rapid ...
Making cocktails by rapid infusion with Don Lee. It's like being back in science class all over again but fascinating!! pic.twitter.com/nxRdgYjh
It was a session held at trendy cocktail bar, La Conserverie, to teach us the techniques behind "rapid infusion."
Instantly connect to what's most important to you. Follow your friends, experts, favorite celebrities, and breaking news.