Having battled through the three worst of our six croissants in
this post
, these three were our reward.
In third place, Croissant #6 from Le Grenier a Pain (127, rue Caulaincourt)
I used to live less than 100m away from this boulangerie so it shouldn't come as much of a surprise to you that I've tried croissants from here many times before. (see
Croissant Part 6
.) But, nevertheless, it was interesting to see how one that I 'knew' fitted into place amongst the others.
It was a good shape and size. An engorged cigar shape if ever there were one. My fellow-tasters actually declared it the most unattractive croissant on account of its obesity, but there was something there that I quite liked about it.
The one point where this croissant fell down was that it was overly salty.
Salt content is not something I often take into consideration - largely because it's not particularly high up there on my priority list when trying a new croissant. However, when put into context, it had almost unbearably high salt levels.
-
In second place, Croissant #1 from Boulangerie Ravignan (9, rue Ravignon)
It should be mentionned that the two others that I was with rated this croissant as the best of the morning. I agree that it was long, thin, golden, with a very pleasing sweetness balanced with just enough salt. The pastry was crunchy - it actually reminded me of filo pastry - and the inside was featherweight.
-
And so that brings us onto the winner, the best croissant in the Abbesses / Lamarck / Jules Joffrin area: the croissant au beurre from Au Levain de Caulaincourt, 48 rue Caulaincourt.
These croissants also had a very satisfying crunchiness at the ends and yet so soft and moelleux on the inside. The boulanger had definitely not scrimped on the butter with these because they was exquisitely gourmande. My friends both put this croissant in second place because they felt it was even a bit too heavy. However, for me, there was something about the texture and the taste that transported me back to my days working in a bakehouse in England. There was something that vividly brought back the memory of tucking into slightly undercooked bread because my impatience had got the better of me.
It was for this reason that #5 pipped #1 to the post for me. I realise it's highly personal and not everyone is going to have the same childhood memories that I have but that's what good food should be. It should conjure up images or places in your mind and transport you there. It should make you dream, make you remember. Senses go hand in hand with memory. One without the other is like a dog without a tail. For that reason, this is The One, the one that I reckon is The Best Croissant in Montmartre.
The Paris Food Blog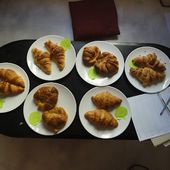 The Worst Croissants in the 18th arrondissement. -
As part of my quest to find the best croissant in Paris, I got together with a couple of friends to hold a blind tasting of croissants from six different boulangeries in the 18th arrondissement in ...
http://burnt-cream.overblog.com/2012/01/worst-croissants-in-18th-arrondissement.html
' Les toilettes ' often cause problems for people visiting the city and locals alike. From my experiences taking groups of tourists around Paris, I can safely say that the shock for the great ...
http://burnt-cream.overblog.com/2011/01/ou-sont-les-toilettes.html