Le Bistral sadly closed its doors early 2013.
Try Le Garde Robe (4 rue Bridaine, 75017) instead.
Enjoying myself in the Garde Robe, 75001. pic.twitter.com/L3P2MpDq - Emma Bentley (@emmabentley87) September 3, 2012 Cosy, rustic and with a great natural wine list, Le Garde Robe should be a ...
http://burnt-cream.overblog.com/2012/08/le-garde-robe-75001.html
For old times sake:
"I had lunch at this superb bistro/wine bar yesterday.
The first dish we had was tuna tartar with a mayo-sauce and garlic bread. It was so tasty. Perfectly seasoned. For a country so famed for their garlic, it may come as a surprise to some of you to learn that garlic bread is not common here in France so I wasn't expecting it. I was very impressed that it wasn't too garlic-y and that it had a nice crunch to it. This dish was actually so tasty I struggled not to finished off the whole thing by myself, because I was supposed to be sharing it!!
The second course was duck breast, seared, and served on mashed potato. Simple, but so good.
The wines we had (because this was a working lunch after all) were the white "Les Foulards Rouges" 2006 (a more recent vintage would probably have been better, but it's still a very good wine) L'Anglore rosé (delicious!!) and Aréna's "Tavel" red wine from 2010 (even more delicious!)
Apologies that the photos are not as good in terms of quality as they normally are. I had to surreptiously snap with my smartphone rather than using my normal camera. I don't think these photos do justice to just how good the food and wine was! I highly recommend this place.
Just one final note: It calls itself a gastro-resto. I personally think that's a bit misleading. The decor and atmosphere inside is definitely much more of a local bistro rather than a restaurant. It's not over-ly done, or pretentious and it certainly doesn't think too much of itself. It's somewhere you could go with friends without having to dress up, it's also somewhere you could take someone on a date, knowing you're going to get good food but without the pressure of a formal restaurant.
80 rue Lemercier, 75017"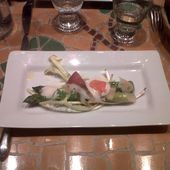 11 Reviews of Le Bistral "After we caught up with the rest of the gang for a 21 course lunch, we were wondering where we could go for dinner, our friend the Sous Chef of Hof Van Cleve recommended Le
Le Bistral : restaurant / Batignolles (17ème)
Petit resto pour belles occasions Au Bistral, dans les assiettes, il n'y a que du frais, du vrai, du petit producteur et du vin plein de saveurs. Alexandre Mathieu (à la tête du lieu) et son chef...
http://www.parismieuxmieux.com/2012/01/le-bistral-restaurant-batignolles/