Craft beer is becoming more of a thing in Paris. And by Zeus, I can't tell you how late this trend has been in coming. Wine has always been big, cocktails have taken the city by force, now it's time for hops to have their moment.
Below are some of my favourite addresses where you can be sure to get good beer.
Top tips: La Fine Mousse - just behind ESCP Europe, a little further beyond the hip area of Oberkampf, the great vibe, young families makes this almost a French gastro-pub. If only they served food....
With a more grungey feel, I also really like the Supercoin bar, on the rue Baudelique in the 18th. The beer is cheap, the people local and the pizza joint opposite will deliver!
Feel free to ask the barman in established cocktail bars like the Sherry Butt, Grazie and Curio Parlour because their ever-expanding range of beer bottles is also worth discovering.
Finally, if you're looking for a blonde to take home with you, addresses like the Cave à Bulles and LMDW Fine Spirits can provide you with your first choice of nationality.
Cave à bulles - Boutique de bières artisanales à Paris
Cave à bulles, vente de bières
Brewberry | Cave à bières et petite restauration
Plus de 300 références sont disponibles : bières belges, françaises, allemandes... mais aussi des inédits en France : bières hollandaises, suédoises ou américaines. Que ce soit à emporter ...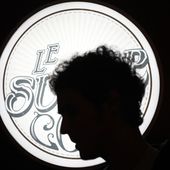 Le stock a pris une sacré claque avant même que l'on puisse les annoncer... Restent tout de même quelques spécimens drôlement gouleyants. Notre sélection : Blonde, Blanche, Rouge, Floréal, P...
La bière à un prix unique de 3 et 6 euros. Plus de 550 types de bières différentes, rafraîchies en...
La plus grande sélection en ligne de spiritueux fins et haut de gamme. Vente en ligne de plus de 2000 références, 650 marques, 50 catégories d'alcools. Découvrez la boutique spécialisée dans...
http://www.finespirits.fr/vente/alcool/spiritueux/biere-cidre-poire/biere.html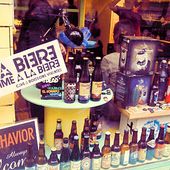 Cave à bières artisanales et épicerie funk à Paris 18 Montmartre. Dégustation sur place et à emporter
Elle est belle comme Gilda dans sa robe de satin noir. L'AB:06 est une bière brassée en Ecosse par BrewDog, qui la propose en édition limitée à 8 973 exemplaires. Une " triple dry hopped imper...
http://sortir.telerama.fr/paris/lieux/boutiques/paris-sainte-biere,16434.php
Magasin de bières artisanales à Paris
vente de bieres artisanales du monde à paris. Vous trouverez des bieres belges, des bières françaises, des bières anglaises, des bières américaines, des bières allemandes, des bières irland...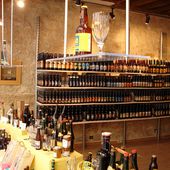 Foaming at the bouche: craft beer blows up in Paris
Until recently, beer drinkers in France who wanted to quaff anything with character had to be content with a limited number of foreign-made beers, mostly from Belgium. The Belgian brewing tradition
L'Express De Lyon is on Facebook. Join Facebook to connect with L'Express De Lyon and others you may know. Facebook gives people the power to share and makes the world more open and connected.